Bhajan Workshop by SSSBC Taman University
Submitted by

TamanUniversity

on Tue, 23/02/2021 - 10:32am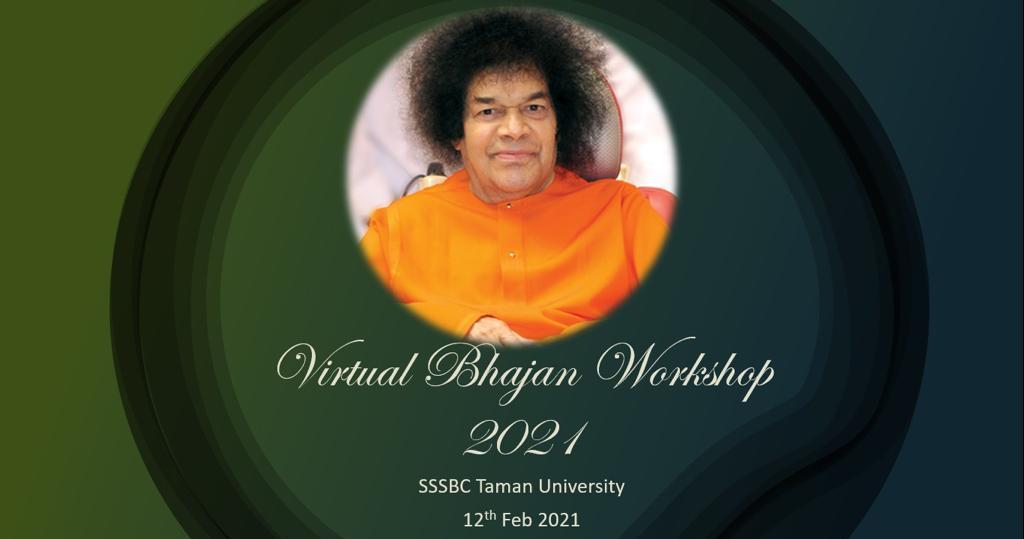 Offering our humble salutations at the Divine Lotus Feet of our beloved Master Bhagawan Sri Sathya Sai Baba.
SSSBC of Taman University (Johor), had successfully concluded a bhajan workshop held for the very first time on a virtual platform on the 12th February 2021. The Spiritual Wing, spearheaded by Sis Thila embarked on this initiative in late Jan'21 by putting together an agenda that would best suit its participants. This bhajan workshop was held in conjunction with and as an offering for the 10th Aradhana Mahotsavam of our beloved Swami. The main objective of the workshop this time around was to stress once again the Power of Namasmarana.
The session began at 4 pm with the opening prayers followed by a short bhajan session. The facilitators, Sis Thila and Sis Mathangi, took over the session by introducing the first topic –"Importance of Namasmarana". In this topic, the facilitator elaborated on how when one sings bhajans, they are able to improve and ultimately achieve stillness, clarity and focus of the mind.
Benefits of chanting and singing the glories of the Lord, the uniqueness of Sai Bhajans, the 4 types of Sankeertan with examples of bhajans demonstrated for each type, the difference between Namasmarana and Namasankeertan, the different genre of Sai Bhajans and how to identify them, were among the other topics covered in the bhajans workshop. To create an interactive session, there were stories and quizzes related to bhajans included in between the sessions as well.
The participants were given the opportunity to share their opinions and constructive feedback to enhance and improve future sessions. Based on their sharing, there were several positive remarks and not forgetting a group of very cheerful and enthusiastic children who asked for more of such workshops. The organizers were glad that the workshop was able to bring about some benefit and helped to improve participants' understanding of Sai Bhajans.
The organisers thanked all the participants and the session came to an end at 7 pm with "Samastha Lokah Sukhino Bhavantu" prayer. We thank Swami for His blessings on this small initiative undertaken.
Jai Sai Ram